Kitchen
It's fair to say The Plough Inn does pub food a little differently. Not only will you find the best selection of hearty and warming pub classics on our menus such as our homemade steak and ale pies, braised pork belly or Moroccan style lamb chops, you'll also find a mouthwatering selection of authentic Thai cuisine  – with a menu focused on fresh, aromatic Thai dishes pulling in visitors from miles around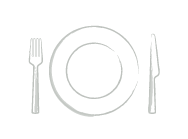 Traditional English Food
We serve delicious, honest food that celebrates the best seasonal produce from local farms and suppliers. Our menu, which leads with bold British flavours, takes its inspiration from amazing ingredients that are found on our doorstep. Try main dishes, lunches, snacks and tempting deserts, plus a selection of Daily Specials.
Our Daily Specials change every day and reflect the best seasonal produce from the area. Available throughout the week, please check the board to see what is fresh today.
Our Sunday Menu offers a roast as good as you'd make at home.
Authentic Thai cuisine
Feeling hungry and fancy something a little different? Sit back and enjoy our mouthwatering authentic Thai Cuisine. From delicious starters and spicy soups to tasty curries and sizzling dishes straight from the grill, there is bound to be something to tickle your taste buds.
Our Thai dishes are all homemade and prepared fresh to order to ensure they are jam-packed with flavour and spice.
Enjoy a Thai takeaway and get 10% OFF!
Can't join us for a Thai then why not order your favourite dishes and enjoy them in the comfort of your own home.
We"ll also give you 10% off when you order a Thai takeaway
The first Wednesday of the month is Steak Night?
There's nothing people love more than a good steak! And we have the perfect offer at The Plough Inn for steak lovers.
Every first Wednesday of the month we host 'Steak Night' featuring locally sourced meats.
Making a Reservation
Drop in and grab a table, or book ahead by clicking the 'Book a table' button at the top of this web page.
We can get very busy at peak times. For parties of 6 or more people please ensure you call us to reserve a table. 
Food Serving Times
Monday to Thursday
Lunchtime: Noon - 3pm
Evening: 6pm - 8:30pm
Friday
Lunchtime: Noon - 3pm
Evening: 6pm - 9pm
Saturday
Lunchtime: Noon - 4pm
Evening: 6pm - 9pm
Sunday
Lunchtime: Noon - 4pm
Evening: Closed

If you have any further enquires or would like to make a booking

The Plough Inn is a superb village pub located in the corner of four counties - Surrey, West Sussex, East Sussex and Kent. Serving both traditional pub food and mouth watering Thai.