All Four-Legged Friends Welcome!
Our four-legged friends are a very big deal at The Plough Inn, where our breathtaking countryside is heaven on earth for any creature with fur, four legs and a wet nose.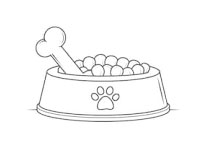 Man's best friend
We love dogs at The Plough Inn.
Canine visitors to our beautiful rural pub in Surrey are always welcome and will enjoy complimentary doggy treats which you'll find on the bar when you arrive. Out in the garden, we also have special water stations to make sure your pooch stays hydrated after walkies.
Canine code of conduct.
The majority of staff and customers here at The Plough Inn are very fond of dogs. However, not all people are dog lovers, some even have a fear or allergies. So due to the increased number of four-legged customers, we've introduced this code of conduct so that everyone can relax and feel comfortable.
In an attempt to reach a happy medium, we would appreciate if these guidelines were followed:
Dog should be accompanied by their owners at all times, both in and outside the pub.
When inside please keep your dog on a lead and off the furniture
Please do not allow your dog to jump up at anyone
If your dog is barking, please attempt to quiet them
You may be asked to take your dog outside due to incessant barking
Aggressive dogs will not be tolerated
Our hope is that by implementing these guidelines we can create a warm welcoming atmosphere for all our customers, both four-legged and two!
Ride to the pub
We have a dedicated area to tie up your horse outside and water and hay on hand so that your mount can fuel up, The Plough Inn provides a picture-perfect pit-stop for thirsty riders. And with the outdoor seating adjacent to the tethering area, riders can bask in the sun enjoying lunch — while keeping one eye on their horse.
Four Counties walks
A 5.5 mile (8.5km) tranquil walk through rural Surrey passing close to the neighbouring counties of Kent, East Sussex and West Sussex.
The route passes a number of farms, past fields of sheep, cattle and horses and through woodland. There are extensive views to the chalk ridge of the North Downs, and the Weald to the south. Part of the route follows the Vanguard Way, a long distance footpath linking the London suburbs to the south coast.
Opening Times
Monday - Noon - 11pm
Tuesday - Noon - 11pm
Wednesday - Noon - 11pm
Thursday - Noon - 11pm
Friday - Noon - 11pm
Saturday - Noon - 11pm
Sunday - Noon - 8pm

If you have any further enquires or would like to make a booking

The Plough Inn is a superb village pub located in the corner of four counties - Surrey, West Sussex, East Sussex and Kent. Serving both traditional pub food and mouth watering Thai.